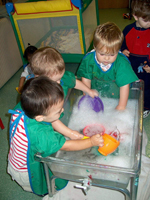 The Board of Directors and Staff of Bridlewood Child Learning Centre believe that all children are unique, valuable and have the right to high quality child care without distinction or discrimination. Our centre's philosophy embodies the Reggio Approach to Early Education. This approach recognizes the innate need of children to understand the world around them. Our program encourages them to question, experiment, and discover independently, all that is important and familiar to them.
The Centre provides a secure, consistent environment which fosters a positive self-image in every child. The classroom environment is respectful to the children's needs, facilitates decision-making and independence, fosters creativity and language, as well as providing a warm welcome for parents. We believe that each child should, through their work and play, experience a feeling of success and accomplishment on a daily basis by participating in a program that is concrete, valuable and developmentally appropriate to meet their needs and desires. We believe that children should be allowed to learn, think for themselves and be creative. They are given every opportunity to express their learning within the classroom through many different mediums available to them. We believe that a child's work and play should be respected and held in highest regard.
Part of the Reggio approach includes project work. Projects provide the backbone of the children's and educator's learning experiences. These projects engage the child's interests, helps them to make constructive choices, challenges their curiosity which in turn, facilitates their individual learning and development. Under the guidance of the educators, the children are developing language, cognitive, problem-solving, social-emotional and physical skills. Respectful, positive relationships for themselves, their peers and their work are supported and encouraged. Through this approach to early learning, the prerequisites for entering elementary school education are also met. The progress of each child's development is periodically evaluated by the Early Childhood Educators.
We also believe that the parents and community play an intrinsic role in the education of each child and we welcome that partnership with the learning centre.
These early childhood years are critical developmentally, intellectually, socially, psychologically and physically to optimize the fullest potential of each child. The Board of Directors and Staff are committed to providing this high quality Early Childhood Education experience for all children in our care and their families.