Download our Welcome Book and classroom schedule (PDF Format) for an overview of the classroom.
Right click and open the link to view our cardinal classroom.  Cardinal Classroom Video June 2020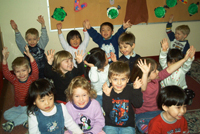 Please note that both the Cardinal room and Chickadee room are preschool age children. The classrooms follow the same philosophy of the daycare, but the goals for each classroom may be unique due to the teaching styles of the individual teachers.
Classroom Goals:
Along with group projects we will provide opportunities for the children to:
Cooperate and interact in a positive manner.
Establish relationships with peers.
Stimulate imagination.
Stimulate creativity, curiosity and self expression.
Develop a sense of pride in achievements.
Develop and practice problem solving skills.
Expand expressive and receptive language skills.
Develop fine and gross motor skills.
Foster sensory exploration.
Develop and practice self help skills.
Develop an appreciation for books.
Experiment with and manipulate a variety of materials.
Provide as many opportunities as possible for children to succeed at their developmental levels.
Above all else to sing, laugh, hug and enjoy each day as best we can.
For parents to contact the teachers please email: